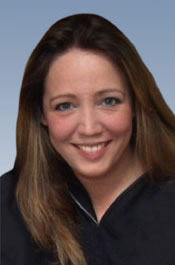 The Boston Prayer Card Company is a family-owned and operated business that has been serving the Funeral Profession since 1993. The BPCC does not deal directly with the general public as its mission is to service Funeral Directors with the rapid response that their profession requires.
The function of this website is to allow the families that Boston Prayer Card Directors serve to have convenient access to samples of the hundreds of cards and prayers that are available through the BPCC. The website allows families to review this information in the peace and quiet of their homes and also provides a tool to enable a dialogue with family members who may be at a distance.
To service Funeral Directors, Boston Prayer Card Company maintains a wonderful, highly trained and competent staff, including a very talented graphic designer, and we are extremely proud of the designation "The Wizards" given to us by several Funeral Directors.
Photo to right is of 2nd Generation Heidi Poor.